Senior Advisory Process Development Engineer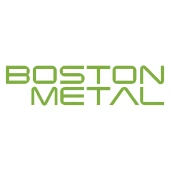 Boston Metal
Woburn, MA, USA
Posted on Sunday, November 5, 2023
Boston Metal is commercializing cutting edge extractive metallurgy technology that will revolutionize primary metals production, while decreasing cost and lowering environmental impact. This fast-paced startup company is looking for a Senior Advisory Process Development Engineer to join the team.
Duties will include
Develop production processes that enable product scale-up and technology transfer from pilot scale into industrial manufacturing.
Perform upstream processing and ensure scalability of operations during process development. (From Concept to industrial scale- Hi temp plasma melting, aluminum thermic) interface with engineering in other functional areas
Interface cross-functionally with research and development, sales, marketing, supply chain, quality, business development and manufacturing teams to define technical requirements, develop processes, and prepare documentation.
Manage/Supervise a team of engineers and technicians in the research, development, implementation, and evaluation of manufacturing processes, methods, tools, and/or equipment.
Establish processes, policies, and procedures and ensure all changes align with the organization's objectives
Ensure compliance with policies, regulations, and safety standards.
Coordinate with manufacturing operations, toll service providers and internal customers to resolve quality issues through root cause analysis and corrective action.
Managing budgets, contracts, and resources for the department.
Designing, developing and planning equipment and plant layout, mass and energy balances, PFD and P&ID
Required Experience
Industrial experience with metallurgical processes for high temperature metals, plant operations, process engineering and control and quality management systems. All these skills will be required for defining, procuring, implementing and operating novel manufacturing facilities to scale up Boston Metal's Inert Anode Development and Manufacturing capabilities.
Desired Experience & Skills
Bachelor degree of higher in Metallurgical Engineering or Materials Science
15+ years of industrial experience process control and operations;
Experience with refractory and reactive metals manufacturing;
Experience with materials processing: aluminothermic reactions, VIM/VAR/PAM/CWI melting, powder metallurgy CIP/HIP/SPS, coatings, cladding, etc;
Experience with quality control systems
Strong analytical and quantitative problem solving skills;
Good record keeping and organization skills.
Interpersonal skills in developing positive working relationships with other employees working with the production process
Extensive business knowledge with comprehensive understanding of the organization and functional area.
Additional Information:
You will be working in a small team environment where teamwork and good relationships with other team members is critical. Many of our staff members are required to wear Personal Protection Equipment (PPE) and you should be prepared to do so as well when necessary.
We offer a full benefits package including health, dental, vision, life and disability insurance, paid vacation, sick time & holidays, and a 401k with company matching provision.
Boston Metal is an equal opportunity employer. All qualified applicants will be considered for employment without regard to race, color, religion, national origin, age, sex, gender identity, sexual orientation, pregnancy or pregnancy related condition, genetic information, ancestry, disability, veteran or military status or any other characteristics protected by applicable federal, state or local law.
Please provide resume if interested.