Modeling & Simulation Engineer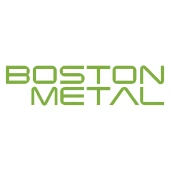 Boston Metal
Other Engineering
Woburn, MA, USA
Posted on Tuesday, November 21, 2023
Boston Metal is on a mission to transform how metals are made. Our platform combines patented innovations with best practices from the aluminum and steel industries to solve the carbon emissions challenge facing the steel value chain. Our technology will decarbonize a major source of global carbon emissions.
We are looking for a Modeling and Simulation engineer to facilitate the development of new high-temperature electrolysis systems to produce carbon-emissions-free tonnage molten metals and alloys.
You will work with other members of our Modeling and Simulation team to create, maintain and refine full-cell, multiphysics simulations and dynamic models (Digital Twins) that account for heat transport, fluid flow, and electrochemistry of Molten Oxide Electrolysis (MOE) cells, validate models against experimental data, and use the models to inform cell design, operation, and control development.
Duties:
Use COMSOL Multiphysics and/or MATLAB/Simulink to develop, maintain and validate MOE cell mathematical models to accurately capture system behavior that agrees with collected real-world test data.
Formulate multiphysics mathematical models for heat and mass transport, fluid flow, electrochemical kinetics, and thermodynamic phenomena of MOE cells.
Collaborate with cross-functional teams to gather data, validate models, and refine simulation parameters.
Analyze simulation results to identify trends, optimize process parameters, and propose innovative solutions.
Recommend improvements to the modeling approach and procedures to enhance simulation capability.
Work with the Engineering and Research teams to validate control schemes and balance of plant and cell designs.
Experience and skills:
M.S. or Ph.D. in Chemical Engineering, Mechanical Engineering, Electrical Engineering or similar with the scope of the role commensurate with experience and skills.
Subject knowledge of heat transfer, electrochemistry, mass transport, and fluid mechanics.
Experience using COMSOL Multiphysics or similar tools to build models of and simulate steady-state and transient behavior of high-temperature or electrochemical systems ideally in basic oxygen or electric arc furnace or aluminum smelting industries.
Experience using MATLAB and Python for data analysis and visualization, ideally with experience using Simulink for dynamic modeling
Must have 'startup attitude': thrive in small teams, self-motivated, quick learner, passionate, adaptable and have a positive affect.
Work Environment
While performing the duties of this job, the employee has potential for exposure to hazardous chemicals and/or hazardous waste, extremely high temperatures, occasional exposure to moving equipment the risks of which are minimized through compliance with the use of proper personal protective equipment (PPE) and established safety policies and procedures. The noise level in the work environment is usually moderate.
Additional Information:
We offer a full benefits package including health, dental, vision, health savings account, life and disability insurance, paid vacations and holidays, and a 401k with company matching provision.
You will be working in a small team environment where teamwork and good relationships with other team members is critical.
Boston Metal is an equal opportunity employer. All qualified applicants will be considered for employment without regard to race, color, religion, national origin, age, sex, gender identity, sexual orientation, pregnancy or pregnancy-related condition, disability, ancestry, genetic information, veteran or military status, or any other characteristics protected by applicable federal, state or local law.
Please provide resume AND cover letter if interested.